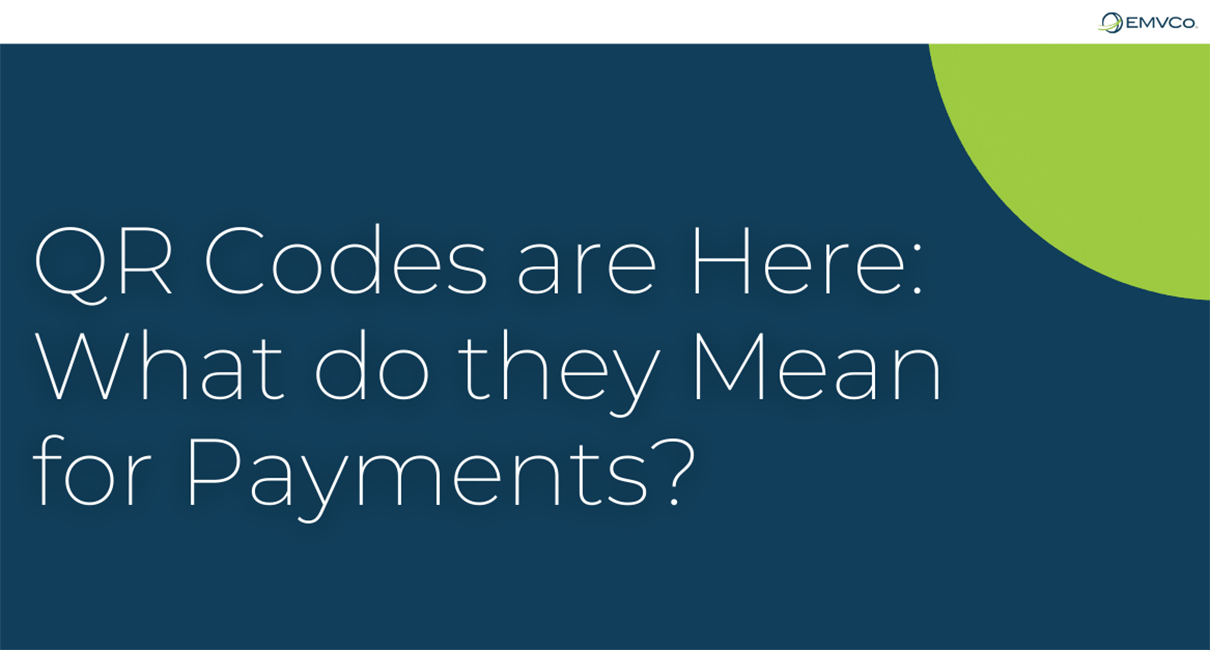 In this post, Brian Byrne, EMVCo Director of Engagement and Operations, explores the increasing popularity of QR codes and how the EMV Specifications offer a common foundation for QR code payment solutions that will work both domestically and internationally, support multiple payment options and enable merchants to increase consumer engagement with loyalty and reward programs.
Walk down a street in China or India and it becomes immediately apparent that QR codes are woven into the fabric of everyday life. Nothing demonstrates this more than the boom in QR code-based mobile payments. QR code payment transactions in China have increased fifteenfold over the past three years, and 40% of consumers in India regularly use QR codes to make payments[1].
Even in the U.S. where QR codes have been slow to catch on, the technology has enjoyed newfound popularity recently as businesses have sought quick and affordable ways to meet consumers' appetite for touch-free convenience. QR codes have provided Americans an easy, hygienic method to view menus and order takeout, redeem coupons and rewards, and return online purchases. And this emergence of QR codes across retail and commerce in the U.S. has significant implications for payments.
On the Horizon – QR Code Payments in the U.S.
Payment convenience and choice are increasingly important to consumers, and the pandemic has intensified these expectations with more demand for socially distanced options that enable simple, touch-free transactions. A recent study[2] found that 84% of consumers around the world expect to make purchases when they want and how they want. In fact, 60% indicated they have changed shopping behaviour in recent months with convenience and value in mind.
Merchants in the U.S. and globally are working to meet evolving consumer demands by supporting a range of consistent and convenient payment methods. As a relatively low-cost option requiring minimal equipment and set up, QR codes have attracted businesses aiming to pivot quickly in the midst of a pandemic and beyond.
The potential is huge. Juniper Research[3] indicates that the ability of QR codes to combine payments and loyalty makes them ideal for retailers seeking to leverage valuable transactional data and predicts that the low-cost nature of these solutions will enable the value of QR code payments to grow to more than $2.7 trillion globally in 2025. In the U.S. alone, the number of QR code payments is forecasted to increase by 240% by 2025.
Realizing this potential, however, is anything but guaranteed. A consistent, reliable and easy consumer experience is key to any payment method thriving, and it is no different for QR codes. As the trend towards contactless options continues, whether it is tap-to-mobile or QR code, consumers will gravitate to businesses and providers that make it simple for them to pay how they want. Solutions that support multiple and new payment options, efficiently and seamlessly, to deliver a frictionless consumer-centric experience will drive adoption forward.
In contrast, fragmented ecosystems with various incompatible solutions create user confusion and frustration, as was the case in the early days of card acceptance when it was common in many parts of the world for merchants to have multiple terminals at the POS. The consumer or the merchant had to figure out which terminal was appropriate for a specific transaction.
As happened with chip terminals, the most efficient and consumer friendly solution is a single terminal capable of supporting multiple payment options. It would introduce unnecessary friction to have multiple QR codes at the point of sale when one QR Code is capable of supporting all payment types. For this reason, creating common technical foundations for QR code-based payments is critical.
Where Specifications Come in
 EMV® Specifications provide a baseline of technical requirements that enable any party to develop payment products and solutions safe in the knowledge that they will work together seamlessly anywhere they are used to deliver consistent and convenient payments. Consumers and businesses benefit from the EMV Specifications every day, by being able to follow a familiar payment process to make secure, reliable card-based payments wherever they are in the world.
Key to the success of EMV Specifications is that they are global, meaning any business in any country can adopt them and expect their solutions to work everywhere. Just think about the EMV Chip Specifications. Prior to their development, France was building out specifications to support secure chip payments and the UK was doing the same, but the two were not interoperable. EMVCo was formed so everyone could use the same specifications and they would all work together. Now EMV chip transactions are near-ubiquitous in the U.S. and used around the world (close to 90% of card-present transactions globally are EMV Chip-based[4]).
Importantly, the flexibility of EMV Specifications means that this global interoperability does not come at the expense of meeting local requirements. For example, the U.S. was able to adapt the global EMV Chip Specifications to support the industry's need for a Common Debit AID (Application Identifier) on EMV Chip cards to provide merchants debit routing options in accordance with U.S. regulation.
The EMV QR code Specifications provide a standardised template for the generation of QR codes for payments. This means QR codes will work in the same way, no matter where they are used for the delivery of quick, reliable and trusted transactions for both merchants and consumers.
At the same time, where QR codes have the potential to unlock opportunities for new use cases and future advancements for a specific industry sector or region (such as the basis for instant payment initiatives and e-invoicing remittances, or next-generation loyalty and rewards offerings), EMV QR Code Specifications provide the flexibility to support innovation and additional features and functionality, while still providing consistency and interoperability across solutions and geographies. This flexibility is made possible through engagement with payments stakeholders from across the world who provide input into the development of EMV Specifications and vote on whether they are ready for publication.
What's Next for QR Codes?
For these reasons, countries around the world – from India to South Africa to Colombia – are already using or considering implementing EMV QR Code Specifications. In Europe, the European Payments Council[5] has advised that "existing QR code-based solutions should consider migrating to the EMVCo specifications to enhance the interoperability of their solutions". In Canada, Ernst & Young is working with industry stakeholders there on QR code payment adoption and using EMV QR code specifications in its efforts to "harmonize [QR code payments] across market participants from coast to coast[6]."
As U.S. consumers continue to prioritize choice and convenience at the POS, and businesses look for reliable, and efficient ways to accept QR code payments, EMV Specifications offer a common foundation for QR code payment solutions that will work both domestically and internationally, support multiple payment options and enable merchants to increase consumer engagement with loyalty and reward programs – all using just a single QR code at checkout. This means that when here or abroad consumers can expect a frictionless QR code payment experience that is consistent, familiar and easy, and supports their shopping preferences.
While QR code payments are still gaining traction in the U.S., we can expect continued acceleration. Laying common foundations now will prevent challenges down the line.
This article originally appeared on Digital Transactions.
QR Code is a registered trademark of DENSO WAVE.
---
[2] Mastercard New Payments Index
[3] QR Code Payments: Beyond China & India
[4] Worldwide EMV® Deployment Statistics
[5] White Paper Non-NFC Based Mobile SEPA Card Proximity Payments
[6] QR Code Payments Could Fuel Business Recovery
Tags: EMV QR-Code
Share this entry: