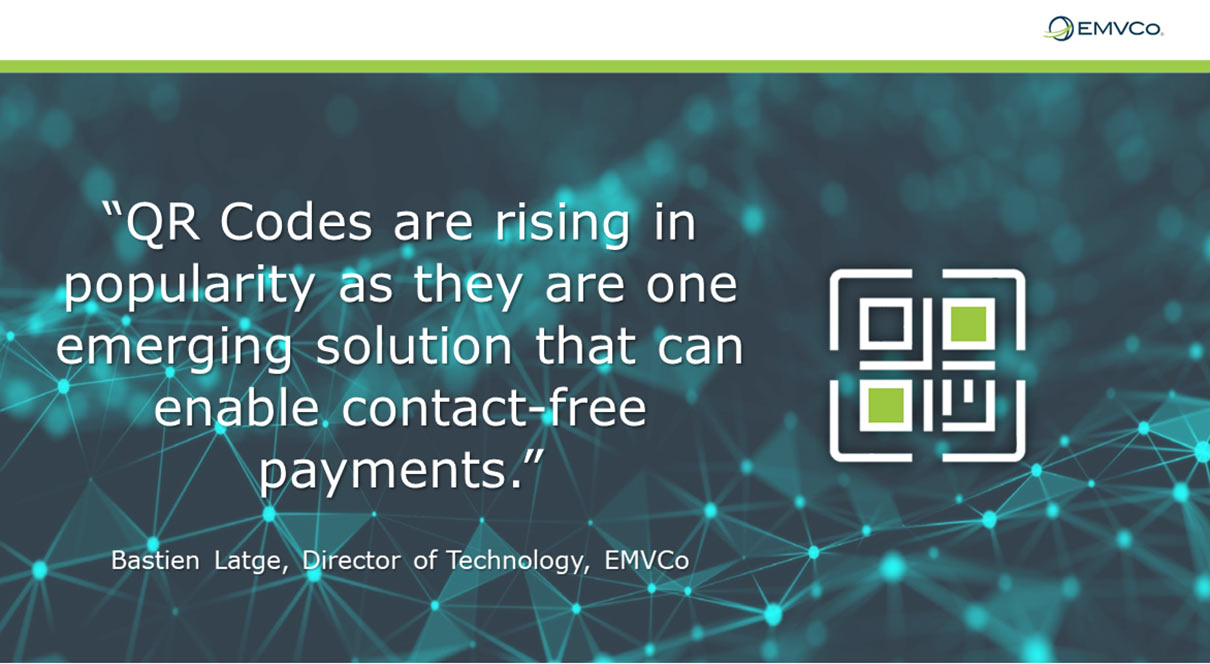 Advances in technology are making secure card payments possible in new ways – whether online or face-to-face.
EMV® Specifications have evolved beyond the original EMV Chip Specification to support a wide range of technologies for card-based payments, including contactless, mobile, tokenisation and QR Codes™.
Increasingly, QR Codes are used to initiate mobile payments at the point-of-sale. They are rising in popularity as they are one emerging solution that can enable contact-free payments.
QR – or Quick Response – Codes are ISO 18004-compliant encoding and visualisations of data. They are essentially two-dimensional machine-readable barcodes. QR Codes™ store data – such as a web address – using black and white squares which can be "read" by smartphones or other barcode readers.
Scanning one of these barcodes with a smartphone camera or barcode reader connects the scanning device to the information stored within the code.
The EMV® QR Code Specifications, developed by our QR Code Task Force in collaboration with the EMVCo Terminal Approval Working Group, regularly evolve. In November 2020, for example, EMVCo released Version 1.1 – an update to its QR Code Specifications for consumer-presented modes (CPM) and merchant-presented modes (MPM).
Consumer-presented cases (CPM) operate in a similar way to card-presented chip transactions, except unlike with chip, communication is 'one-way' (from QR Code to merchant).The consumer displays a QR Code on their mobile phone, which is read by the merchant to conduct the payment transaction. Transactions can be authorised online and leverage the existing chip infrastructure to complete the transaction quickly and securely.
Merchant-presented QR Codes (MPM) is the other common experience for consumers. In this scenario, the merchant displays the QR Code and the customer uses the camera on their mobile device to scan the code.
Scanning the code initiates the payment process, which is connected to the consumer's payment card and can be performed quickly.
The EMV QR Code MPM Specification can enable account-based payment as well as card-based payment. This increases the interoperability, efficiency and flexibility of QR Code deployments based upon the EMV Specification. It also increases choice and participation for all parties and can work in any marketplace in this way.
Most importantly, for merchants this means that it simply provides one QR Code for all the payment providers they accept and avoids the need to show multiple QR Codes in their store.
This acceptance provides a wider and more inclusive, consistent experience for both merchants and consumers. The EMV® QR Code MPM specification has been adopted in dozens of countries globally, some of which have adopted it as a national standard, including Singapore and South Africa.
The specific benefits of the EMV specification are:
New payment providers can be easily added to the QR Code
This interoperable acceptance can provide a consistent consumer experience domestically and internationally
It is flexible enough to be adopted in any marketplace
It can connect with the interoperable EMV framework to widen acceptance globally
A key benefit to merchants in having a single QR Code is that it supports acceptance of the international payment brands and domestic networks as well as merchant proprietary data
As a global specification, the EMV QR Code specification can deliver lower deployment and implementation costs through greater efficiencies with vendors, as well as increased flexibility of processing options.
QR Code is a registered trademark of DENSO WAVE INCORPORATED.
Tags: EMV QR-Code, Webcast
Share this entry: