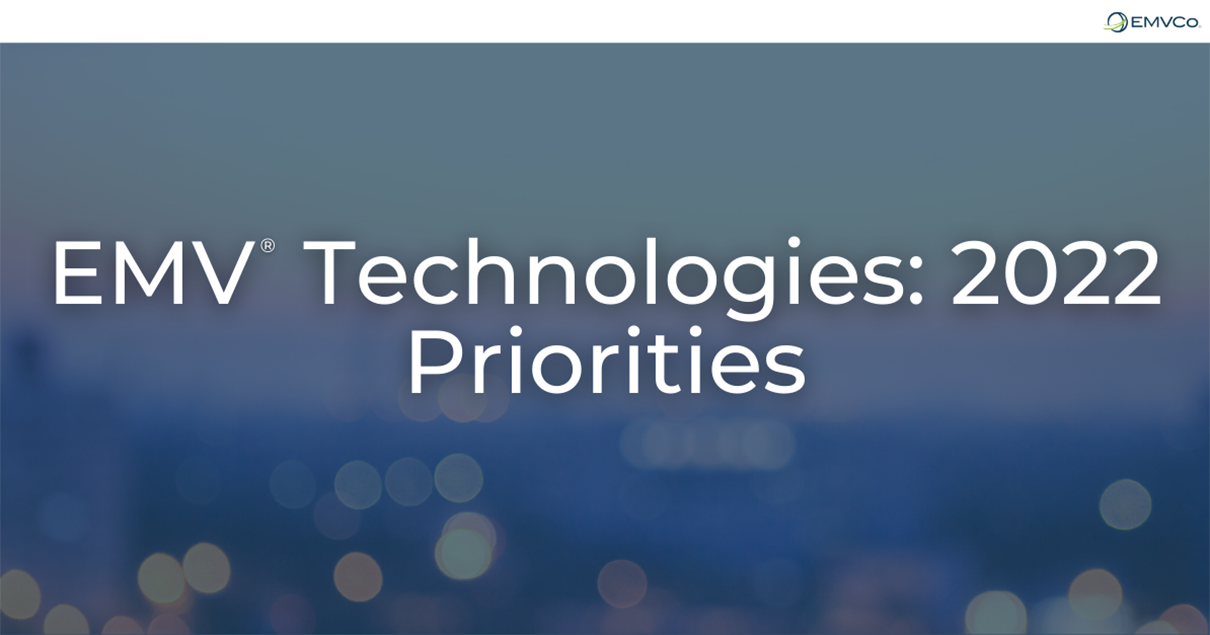 In 2022, the EMV® Specifications will continue to play an important role in providing a common and flexible foundation for the delivery of new payment methods and options that make it easy for consumers to pay how they want. In this post, Jianhua Ni, Chair of the EMVCo Board of Managers, shares insights on EMVCo's key technical priorities for 2022.
Fundamental to EMVCo's work is listening to the needs of the payments industry and understanding how the ecosystem is advancing to address long-term technical requirements. In 2022, we will continue to work with our Associates and Subscribers, other industry partners and the wider EMV® community, to evolve EMV Specifications to enable seamless and secure payments for businesses and consumers worldwide.
As part of these efforts, here is a snapshot of key EMVCo technical priorities for the year ahead.
Advancing EMV Chip
At a time of new, exciting ways to pay, it is easy to forget the significance of the EMV Chip Specifications in enabling millions of payments to work seamlessly and securely worldwide every day.
EMVCo intends to continue the evolution of these specifications in 2022 with the publication of version 4.4 of the EMV Contact Chip Specification. This effort aims to simplify how to implement chip products optimising the latest advancements, including the ability to verify a payment using a cardholder biometric and support for Elliptic Curve Cryptography (ECC). Testing to ensure alignment with this specification is also set to advance in 2022, which is vital to support new and future payment scenarios.
As part of a wider review to update EMVCo's contactless payment offering, we plan to bring key learnings from ECC to the contactless world. This will support the ever-growing demand for contactless and touchless payment solutions.
Securing Remote Payments
Global e-commerce payment fraud losses are estimated to have risen by 18% in 2021[1] compared with 2020. EMVCo's commitment to reducing remote payment fraud will continue to drive advancements in its specifications activity and testing programmes.
In 2022, EMVCo plans to publish the EMV Secure Remote Commerce (EMV SRC) Specification v1.3, which will simplify the usability of the technical documents and ease product development updates. A testing programme that evaluates the components of SRC solutions for compliance with the specification is also being developed.
In 2021, EMVCo published the latest version of its payment authentication specification, EMV 3-D Secure (EMV 3DS) version 2.3. This year, EMVCo will focus on supporting the testing framework to approve products that align to EMV 3DS version 2.3. This necessary work gives confidence and clear industry guidance that products and solutions perform in a certain manner, bringing clarity and trust to the wider payments community.
New Ways to Pay
Alongside maintaining and advancing existing specifications, the payments community is also critiquing existing and established technologies to create new ways to pay.
EMVCo's evaluation of the role wireless technologies could play in flexible and convenient payment experiences is an example of this. As wireless technology enables payments to be made without the payment device being in immediate proximity to the payment terminal, initial work to define use cases shows that it could create a wealth of new payment opportunities.
Looking beyond wireless, our work throughout 2021 to evaluate the best way to interact with merchants and consumers when using smartphones as acceptance devices will see the release of an official TapToMobile Testing Programme. This ensures that mobile devices with built in contactless capability for payment acceptance offer a consistent and seamless tap-to-pay experience for all consumers.
Partnerships
Our industry collaborations continue to drive delivery and ensure we optimise the outstanding expertise within the technology and payment communities. From global technical bodies to regionally focused groups, we are eager to enrich these partnerships.
Of particular note is our ongoing work with FIDO Alliance and W3C to enhance the security and convenience of web payments. Together we have created the Web Payment Security Interest Group which renewed its charter last year to enable the collaboration to continue until 2023. As part of this effort, a key priority in the coming twelve months is to look at how we could improve the Strong Customer Authentication (SCA) experience in Europe, using EMVCo technologies. One element of this is the Secure Payment Confirmation (SPC) to streamline SCA through combining technologies.
EMVCo is also excited to explore its new role as an official liaison with the International Organization for Standardization (ISO) as a recognised contributor to 'cards and security devices for personal identification' with a specific focus on contactless payments. This position presents an important opportunity to support the evolution of this payment method, which continues to go from strength to strength.
To find out more about EMVCo's technical achievements in 2021 and key initiatives for 2022, download the EMVCo 2021 Annual Report.
---
[1] https://www.juniperresearch.com/researchstore/fintech-payments/online-payment-fraud-research-report
Tags: About EMVCo
Share this entry: