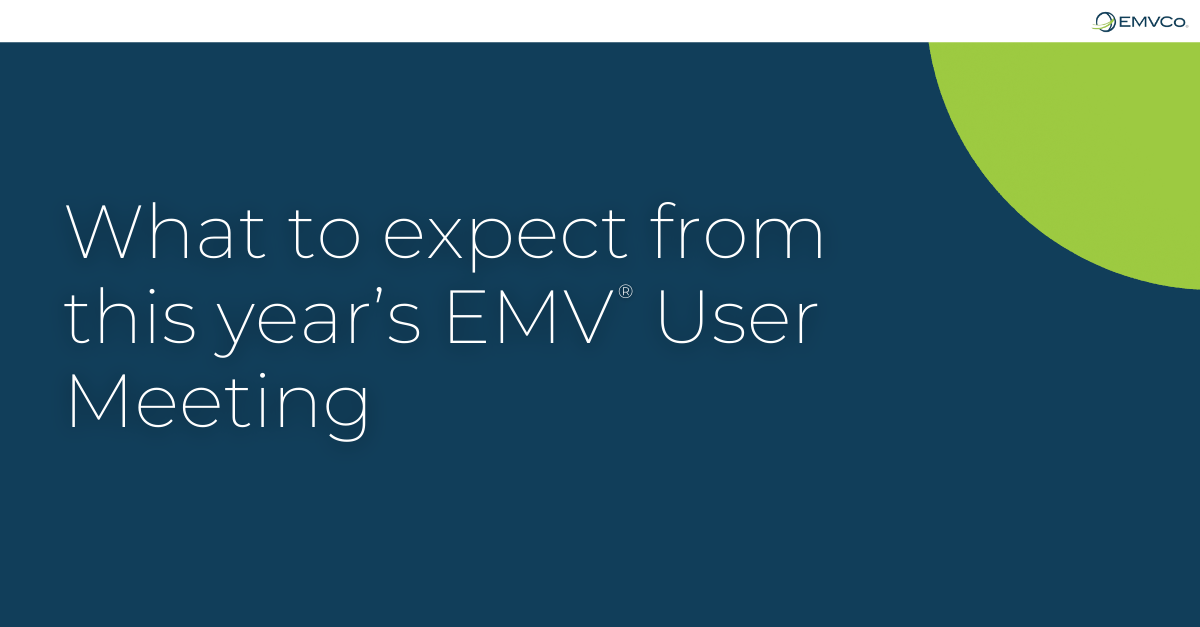 EMVCo is looking forward to continuing to safely resume face-to-face meetings with our global community at this year's Annual EMV® User Meeting. Held at the Hilton Hanoi Opera hotel in Vietnam on 8-9 June 2022, the meeting brings together payment industry stakeholders from around the world.
In this Q&A, Brian Byrne, EMVCo Director of Engagement and Operations, answers key questions about the EMV User Meeting and what attendees can expect from the event this year.
What is the Annual EMV User Meeting?
Brian Byrne: The EMV User Meeting was first established in 2009, to create an interactive forum for users of the EMV Specifications and EMVCo representatives on technical EMV issues and developments. The meeting has evolved over time to reflect the interests and needs of the EMVCo community, but the core objective remains engagement with payments stakeholders to inform and advance EMVCo's work.
EMVCo rotates its meetings between the Americas, Asia and Europe to accommodate our worldwide base of EMVCo Associates and Subscribers. This provides everyone with the same opportunity to participate, regardless of their time zone.
Who can attend the EMV User Meeting?
Brian Byrne: The EMV User Meeting is open to EMVCo Associates and Subscribers.
EMVCo Associates and Subscribers are made up of hundreds of organisations, including merchants, issuers, acquirers, payment networks, financial institutions, manufacturers, technology providers and testing laboratories.
In addition to the formal opportunities EMVCo provides for stakeholders to give feedback and input on the development and enhancement of EMV Specifications, the meeting offers a dedicated forum for stakeholders to discuss and share insights on marketplace challenges and opportunities that could shape the ongoing evolution of EMV Specifications.
What are the benefits of attending the EMV User Meeting?
Brian Byrne: As I mentioned earlier, the EMV User Meeting was first created to meet a need for in-person dialogue with EMVCo representatives and users of EMV Specifications – both to address questions and challenges and to identify future opportunities. This continues to be the main benefit of this meeting.
While we received positive feedback on the virtual events EMVCo hosted during the pandemic, face-to-face engagement has been greatly missed. The Hanoi event provides an ideal opportunity for EMVCo stakeholders to return to discussing in person the latest payment technologies, marketplace needs and the future of payment acceptance.
This provides the EMVCo community with a networking forum to directly engage with, and provide feedback to the technical body's subject matter experts. Due to the wide range of attendees, it also gives people the valuable opportunity to connect with stakeholders they otherwise wouldn't engage with on a regular basis.
What topics or technology areas will EMVCo discuss at the event?
Brian Byrne: The meeting will deliver insight into EMVCo's key technical priorities for 2022, which include:
There will also be a Board of Managers Roundtable, which will provide attendees with the opportunity to ask questions on any areas of EMVCo activity and plans.
How do I register for the EMV User Meeting?
Brian Byrne: To participate, attendees must be an EMVCo Associate or Subscriber. While the meeting is planned for in-person, there will also be a virtual meeting access option for those who are unable to travel.
To register for the EMV User Meeting and to view the full calendar of EMVCo events, such as the upcoming Technical Meetings in Berlin on 9-12 May, visit the EMVCo website. For further details on ways to participate in the EMVCo community, learn how you can get involved here.
Tags: About EMVCo
Share this entry: