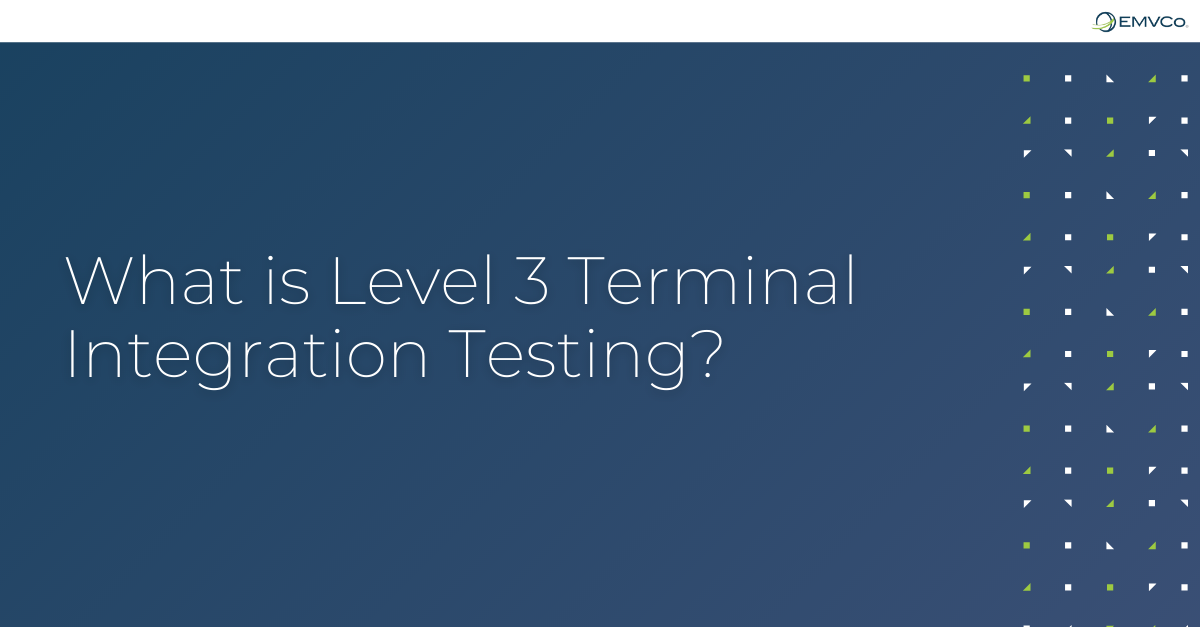 Level 3 (L3) testing validates the integration of EMV®-compliant payment acceptance terminals with merchant or bank systems. EMVCo Technology Consultant Bastien Latge covers the basics of Level 3 testing and how EMVCo supports the delivery of seamless and secure chip card payments around the world.

EMV Chip Specifications and the Role of Terminal Testing
EMV Level 1 (L1) and EMV Level 2 (L2) terminal testing and approval assess and validate the compliance of payment acceptance terminals with the EMV Chip Specifications.
Collectively called 'Terminal Type Approval', L1 and L2 work together to address different functional aspects necessary for terminals to support EMV chip transactions.
See related post: What are EMV® Level 1 and Level 2? Terminal Type Testing and Approval
Once terminals are L1 and L2 approved as meeting EMV Chip Specifications, and have received a payment application, they will undergo Level 3 (L3) testing to confirm that they can be successfully integrated with merchant or bank systems.
What is Level 3 testing?
Level 3 testing ensures the conformity of merchant terminals to payment systems policies and procedures. The payment systems require that chip terminals that have been configured for deployment are Level 3 tested before being integrated into their payment acceptance environments.
This means the chip terminal must be complete with its EMVCo-approved hardware (L1) and software kernel and payment application (L2) in place and must be configured with the right application before being connected to a test environment or host simulator, which mimics authorisation responses from payment systems.
L3 testing evaluates and confirms that an EMV-compliant payment acceptance terminal will work with merchant or bank systems to enable end-to-end transaction acceptance. The testing helps ensure that a new or upgraded terminal (hardware and/or software) meets the specific requirements and recommendations of the individual payment systems before it is brought to market.
What is EMVCo's role in Level 3 testing?
Level 3 testing is defined by each Payment System's policies. Unlike EMV L1 and L2 testing, the test cases are provided by the Participant Systems (this term refers to Payment Systems and other entities that elect to use the EMV L3 Testing Framework and a qualification process for L3 Test Tools).
EMVCo supports this by defining a set of standardised L3 Test Tool Technical components (i.e., EMV L3 Testing Framework) and a streamlined qualification process for L3 Test Tools.
EMVCo qualified test tools are listed on the EMVCo website for use by acquirers and processors in achieving L3 testing and certification with the payment systems.
EMVCo also manages a L3 Participant System Identifier (PSI) service to allow domestic payment systems (and other similar entities) to use the EMV L3 Testing Framework.
See related post: How EMVCo is streamlining EMV Terminal Integration, Testing and Certification
What benefit does EMVCo's Level 3 testing Framework offer to the payments industry?
By standardising and qualifying the tools used to perform terminal integration testing, EMVCo's work helps to improve the quality of test tools and reduce the time spent testing and certifying the integration of EMV terminals. Test tool providers can develop consolidated solutions to perform terminal integration testing across different payment systems, without the need for repeated test tool qualification. For merchants and acquirer processors, a streamlined testing approach means quicker time to market for integrating new, or updating existing, payment acceptance terminals.
Tags: EMV Chip, EMV Contact, EMV Contactless
Share this entry: