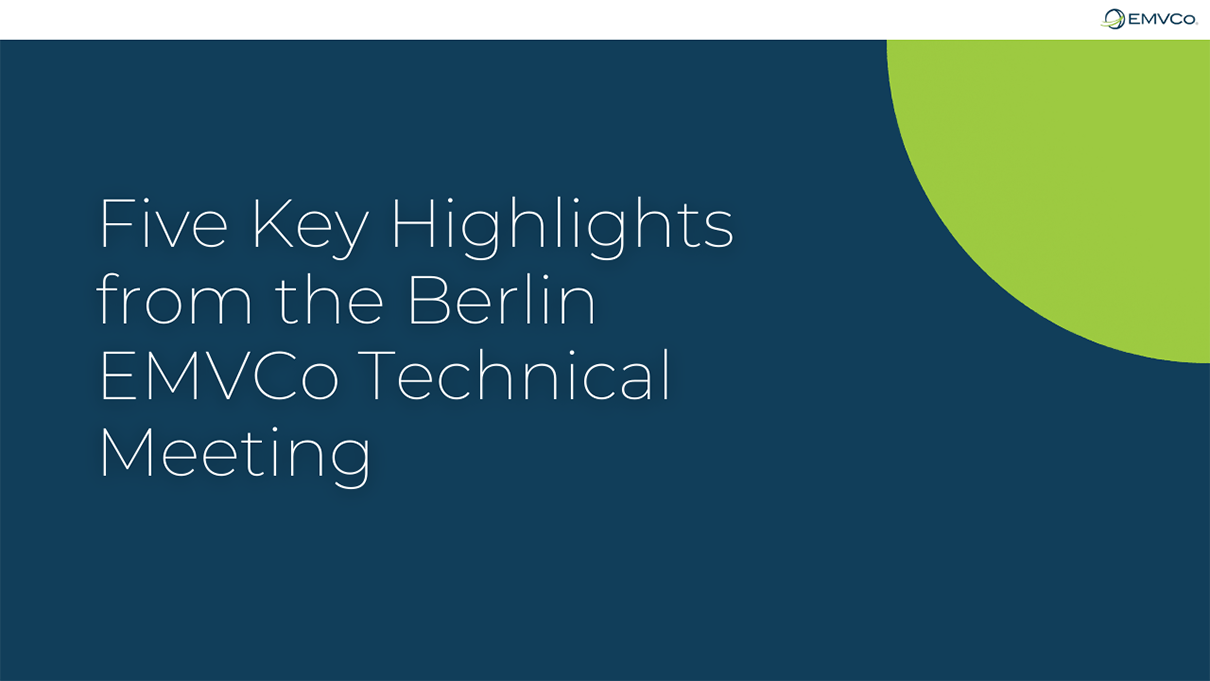 EMVCo Technical Meetings enable EMVCo Associates to engage in the technical direction of EMVCo, and provide direct technical input to specification development. In this post, Brian Byrne, EMVCo Director of Engagement and Operations, shares his five key takeaways from this month's Berlin Technical Meeting.
1. EMVCo announces development of EMV® Contactless Kernel Specification to simplify and advance global contactless acceptance
The meeting opened with the announcement that, following a detailed review with EMVCo Associates throughout February and March, a draft EMV Contactless Kernel Specification to simplify and advance global contactless payment has been published for public review.
The publication marks a major achievement by delivering an EMV kernel specification that stakeholders over time can use for global contactless payment acceptance, under the same royalty-free conditions as the EMV Contact Chip Specification. This follows extensive engagement with EMVCo stakeholders and the wider payments industry to understand marketplace needs and determine the best approach.
EMVCo aims to release the final specification later in 2022 once its publication is approved by the EMVCo Board of Advisors.
2. Work continues to support new ways of paying in-store
In addition to the publication of the draft EMV Contactless Kernel Specification, Associates heard how EMVCo is continuing to advance various other specification and testing initiatives to enhance contactless payments functionality. This comes as the range of payment devices grows, new acceptance methods emerge, and use-cases such as transit continue to increase in popularity.
EMVCo's ongoing evaluation of the role wireless technologies could play in flexible and convenient payment experiences in the future was also explored.
3. Advancing EMV 3-D Secure (EMV 3DS) and EMV Secure Remote Commerce (EMV SRC)
Attendees received an overview of the latest enhancements to be incorporated into EMV 3DS Version 2.3.1.0, as well as the publication roadmap for the EMV SRC Specifications. This was complemented by a Special Interest Meeting (SIM) dedicated to facilitating discussion on how the EMV SRC user experience can balance consistency and flexibility.
4. EMV Specifications and European payments
With the meeting taking place in the heart of Berlin, it provided a perfect opportunity to explore the development of the European payments ecosystem.
Christian Delporte, EMVCo's European Liaison, was joined by Patrice Hertzog, Chair of the European Payments Council (EPC) Cards Working Group, to discuss emerging regulatory trends. Associates also heard how EMVCo participates with organisations such as the EPC and the European Cards Stakeholder Group (ECSG) to track key developments and ensure the EMV® Specifications are flexible to accommodate regional requirements.
5. A welcome return to face-to-face collaboration
Over the past two years, we have all got used to new ways of working and I am proud of our work to continue to facilitate meaningful collaboration in a virtual world. However, the extensive engagement on display throughout the week demonstrated the clear benefits of resuming face-to-face meetings.
With this in mind, I look forward to seeing Associates and Subscribers for the EMV User Meeting in Hanoi, Vietnam, 8-9 June.
Tags: About EMVCo
Share this entry: